Post-retrieval and two week wait wish list
When I went through my first IVF cycle, I didn't have a #ttctribe and was going into it blind. Yes, my doc told me some general tips, but I didn't have friends to give me what I really needed to know.
Both the post-egg retrieval time and the two week wait is a tricky time during the IVF process, so I decided to round-up a small list for yall.
Here are 8 things I would suggest to have on-hand for her post-egg retrieval and 2 week wait:
Hydration is so important after an egg retrieval. Having a fun pineapple cup helps keep the "eye on the prize" to keep hydrated. Check it out here
If your prenatal vitamin does not have at least 200 mg of choline in it, NOW is the time to make sure you are getting in enough of this important nutrient to support baby's brain and neural tube development. Check it out here. Can't swallow pills? Try these
Heating Pad for post-retrieval
This heating pad is microwavable and is amazing for post-retrieval discomfort. Your ovaries got poked and prodded, and may let you know that they are unhappy post-retrieval. The heat may help. Check it out here
Fertility Foods Cook book
Cooking is a great way to keep your mind off of things during the 2ww, and is also an awesome way to make sure your body is getting what it needs to support your fertility and (hopefully) and pregnancy! This cookbook was written by dietitian colleagues and is fabulous, but you can pick any cookbook you are eyeing. check it out here
Foot Peel for some foot love
The two week wait is a time for some self-care and pampering. It can be a stressful time, so do something kind for yourself. I LOVE these foot peels. You keep the enclosed socks on for an hour, and about 5 days later your feet peel and leave behind a silky smooth foot! Get them here
Yoga can be a lifesaver during the 2ww. Even if you are not a regular yogi, restorative yoga may help you manage your stress and relax. Best of all, there are videos that you can try out in the privacy of your own home! See an example here
DYK that whole grain intake is related to improved endometrial thickness? Did you also know that popcorn is considered a whole grain? Don't use the microwavable bags you get at the grocery store…they can be ridden with chemicals that you just don't want in your body RN. Popcorn is also a great treat while you curl up and watch a dumb movie to take your mind off of things. Check this one out here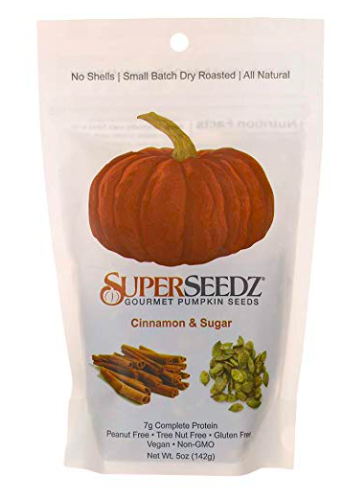 Pumpkin seeds are an excellent source of zinc. Research has suggested that your zinc to copper ratio may play a role in IVF success. Upping your zinc intake helps your copper to zinc ratio, and snacking on these yummy pumpkin seeds is a great way to do this. You can also treat yourself to some oysters for a zinc boost…just make sure they are cooked! Try the pumpkin seeds here
The two week wait and retrieval can be a stressful time, but hopefully these tips help make it a little easier. To read up on some tips that may help support implantation, read up on it here. Baby dust to you Xo.
PS-this site contains affiliate links. At no additional cost to you, I may receive a small commission for purchases made through these links. These commissions are what helps may for maintenance of this website. Thank you for your support!